Orlando Florida Villa Disney Area Villas Holiday Home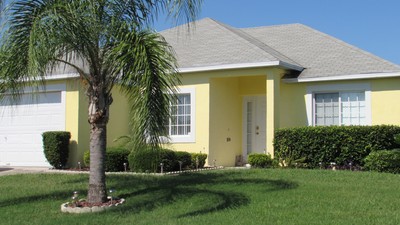 Location:
Redcar, N Yorks
Description:
4 BEDROOM LUXURY VILLA WITH PRIVATE POOL ***FREE WI-FI THROUGHOUT THE VILLA AND POOL AREA*** ***47" 3D HDTV & 3D BLU-RAY PLAYER*** ***FREE UNLIMITED PHONE CALLS TO THE UK*** ***2 IPod/Phone DOCKING STATIONS*** ***LUXURY POOL FURNITURE*** ***FREE GAS BBQ*** ***TVs IN ALL BEDROOMS*** *GAMESROOM WITH POOL, AIR HOCKEY, TABLE FOOTBALL AND DARTS* ***ONLY ten MINUTES DRIVE TO DISNEYWORLD*** ***FULLY AIR CONDITIONER*** Our fully air conditioner luxury four bedroom 2 bathroom villa is situated 1 mi from the popular hwy192 close to all the attractions and restaurant's our villa can sleep 1 to 8 people.With games room with free pool table, air hockey table, football table and dart board it also has high speed internet access, and GAMECUBE Private heated screened pool with optional pool heat, with a large deck area which is south west facing so you can enjoy all day sunshine and dine outside using our gas barbeque. We have a covered lanai for when the sun gets too hot, pool bathroom, with new luxury patio furniture and sunbeds. Our villa is located at Lake Davenport Estates a quiet tranquil estate with no road or rail noises. It is surrounded by golf courses and orange groves and only 1 mi from restaurants,fast food outlets and supermarkets10 minutes drive to Disneyworld, twenty minutes to Sea World and Universal Studios Our Management Company are on hand 24 / 7 should you have any emergencies, no matter how big or small.Located just off HW192 only ten minutes drive from the Disney theme parks andwithin minutes of the i4 and the famous Champions Gate golf course.There is also a new Wal-Mart superstore less than 2 minutes drive from our villa.For our UK customers we can assist with (if you require it) flights and car hire.With the best beaches in the world just over 1 hour's drive away we have in the villa beach chairs, large parasol's and a cool box to keep the drinks ice cold. AMENITIES Open plan living room/kitchen/diner All bedrooms have cable TELEVISION and ceiling fans.Two hairdryers are provided for your use.Fully fitted kitchen with electric cooker,electric kettle, toaster, coffee maker, dishwasher, microwave and large fridge freezer with ice & water dispensers.Full laundry facilities, washing machine, tumble drier, iron & ironing board. Dining area, seating for up to six people Master bedroom en-suite, with walk-in wardrobe, ceiling fan , pool view,cordless telephone, radio alarm,cable 40" HDTV, BLU-RAY DVD and CD player.Double bedroom with ceiling fan,radio alarm, built-in wardrobe and cable TELEVISION with VCR.Disney bedroom with Mickey TELEVISION, DVD, VCR and novelty ceiling fan, GAMECUBE with a selection of games. Twin bedroom with ceiling fan, built-in wardrobe, pool view,radio alarm, cable TELEVISION.Family room with ceiling fan, free phone calls to the UK, up-graded cable 47" 3D HDTV with sound bar, which includes movies on demand and LIVE UK premier and champion league football all in glorious 3D, also we have a 3D Blu-Ray DVD with a large selection of 3D films, 2 docking port for iPods/iPhones. High speed wifi internet connection available Bed linen, towels and beach towels all provided The property is all on 1 level making it suitable for small children, wheelchairs and people with mobility problems.Free use of baby cot, highchair and strollers (2) Free use of our digital electronic safe WE ARE SURE YOU WILL LOVE OUR VILLA, BUT DON'T TAKE OUR WORD FOR IT LOOK AT A FEW COMMENT IN OUR GUEST BOOK JOANNA SHELLY CHELMSFORD Well, what can I say, excellent in every way. Sheelagh & John are so helpful, the villa has everything you could possibly need. From hairdryers/straighteners, to washing machine/dryer free wifi the list is endless. We thoroughly enjoyed our stay here, our boys loved the pool so much we had to make them come out every day so we could go out to eat!! The helpfullness and hints and shortcuts came in very handy especially as it was so busy at Easter. Thanks again. If we ever get the chance to go back to Florida, we will come back to this villa. GRAHAM & BRENDA BURTON MONTROSE SCOTLAND FAB...U..LOUS!! That has to be 'the word' of our holiday to the House of Mouse. Sheelagh and Johns villa was just perfect, a total home from home with lots and lots of little extras you wouldnt normally get in a villa rental such as heaps of quality towels and pool towels, hairdryers, straightners, toastie machines....the list goes on and on. The absolute highlight of the villa has to be the large swimming pool which was such a delight after a day traipsing round the themeparks, even after a whole day at the waterparks my boys were dying to get back to the villas pool!Sheelagh and John were brilliant, answering any queries both in the UK and Florida extreamly quickly and efficiently. Also their shortcuts and tips for the parks made our life a lot easier!I would not hesitate to recommend Sheelagh and Johns villa to anyone (but not if its when we want to go back haha!!) and we WILL be returning as soon as the bank balance lets us!Thanks for allowing us to stay in your lovely villa, we will keep in touch x Holden/French families - MiddlesbroughWe have stayed at this villa three times now and every time we return its just like coming home. Sheelagh and John have made this villa a real home from home with lots of home comforts. The place is always clean and tidy with lots of up to date modern appliances. We never have to worry about taking things like towels as they are provide for you, which means we can buy more to take home!!!The swimming pool and games room is a big hit with the kids.There is a great management team who are always just at the end of a telephone line should you have any concerns.Sheelagh always gives you a ring when you arrive to make sure everything is up to standard and is always more than happy to sort anything out should the need arise. The close location to all the parks is an added bonus, as is all the valuable tips that Sheelagh and John can offer.One of our favourite places to visit whilst we are in Florida is Celebration you should pay a visit to the diner or Italian whilst you are there. We love this place and villa, can't you tell. I could go on and on but I think you get the message we will be returning in a couple of years time like we always do.Some how nothing else would live up to our expectations. Thanks Sheelagh and John Colin Archer Over the years we have stayed at around a dozen different villas in FloridaSome have been extremely grand, and we have been fortunate to return to and would always be on our list when re-booking, others have not been so good and not made our listThis property would certainly make the list of properties we would have no hesitation in returning to, and gave us all that we look for in a villa rentalIn the past we have booked some lovely private homes, however each 1 of them until we arrive has always given us that little fear of what is it really going to be like, are we going to be taken for a ride etc Its amazing how different a property can look on arrival compared to images on a websiteThe owners of this property (Sheelagh & John) put us at ease from when we 1st spoke with themThey provided us with very useful details, and tips to make our stay even more enjoyable, and were always available to answer our questionsThe property itself really is a home from home, and this is 1 of the reason properties like this make our list of where we would return toThe fact the owners also spend a considerable amount of time there themselves speaks volumes, and helps to ensure everything is kept up to scratchIts not always the big extras that make the property, for us its the silly little things that make life easier (electric kettle Not many of these in the US), access to a bathroom from the pool essential with kids, oh and in this case cable TELEVISION package including live Premiership games (shame my team were not up to performing when I could watch them live) The property was very very clean on our arrival with plenty of bedding and towels (including tea towels - the times there have been none) available, and it was also spacious, and well laid out, and the beds extremely comfortable, as was the poolside furnitureNot to mention the essential TELEVISION's in each room to catch up on all that great US TELEVISION and weather, along with the games room, games console for the kids, free wireless internet and UK calls, and washing machine and dryer, plus the safe that the owners failed to mention to us, but was a fantastic bonus - note to Sheelagh & John add it to your inventory The maintenance people were also fantastic on the 1 minor occassion we had need to call them, with the problem resolved within an hour and that was on a Sunday afternoon, and nice to know they also genuinely exist and care should you have need to contact themIts also in a great location, in what is a nice mix of residential and holiday rentals, and very nice and tidy neighbourhoodAnd yet everything is genuinely close by, despite the reservations many may have of booking a villa in this area, and that US27 is too far awayWe may have thought this ourselves in the past but having been there now a number of times this property is closer than many others we have been to that claim to be closerWe have heard the always quoted ten mins from Disney, more times than we have been to Chef Mickeys, and there must be a secret Disney location within reach of some of those properties for this to hold trueOnce you become familiar with the location of this property, (and follow the owners tip) and the shortcuts available, this property is within a genuine fifteen minutes of Disney (we timed it 1 day and did it in 12)We also thanks to the joys of sat nav, managed to make the staff entrance and bus lane at Animal Kingdom in ten minutes from the property , but thats a different story and not the recomended route Its less than five minutes to 192 from the property if you follow Florence Villa Grove past the Westside schoolAnd also Walmart Super Target, Publix Berry Town, Posner Park Championsgate and all that they offer, plus a good selection of the favourite US restaurants are all within a five minute drive of the property, not to mention many great golf coursesSo all in all a very nice property owned by a lovely couple, and definitely recomended to be on any shortlist for the once in a lifetime holiday The Armstrong Family - Prestatyn – Wales What an amazing villa. Everything is perfect. It really is home from home. Had a fantastic holiday we are gutted we have to go home. Weather has been great, 1st day of rain today and we're going tomorrow. The buggy came in really handy. Thank you so much for renting your villa to us we will definitely recommend it to others. The kids loved the pool so did we. We are going home now to save up to come back. Thanks again. It really has been the holiday of a lifetime. Thanks The Lloyds & Hawkins – Camberley & Poole UK Thanks Sheelagh & John for your kindness, courtesy & help. Have had a wonderful holiday. Weather fantastic for December and heated pool too!! Would certainly love to come back at future date, so will start saving again ASAP. Have taken contact cards to pass onto family and fiends, we feel like we were visiting family. Hope you enjoy your next trip out here too. Fondest wishes. Hirst Family – Ushaw Moor UK An excellent "home from home" with not 1 thing missing (maybe room service would have made it the "Ritz") Many thanks to Sheelagh for your help and attention rendered when illness occurred, (even from England) and the added attention given by John of Horizon, invaluable, we would certainly use this home again, and recommend it to all our contacts. – Hirst Senior From my 1st call in May 2005 your help, guidance and service booking your home, our flights and transport to and from the airport at home was invaluable. We cannot fault the help you gave from some thousands of miles away but could have come from next door for the attention we received. Saying thank you Sheelagh & John seems so little to say but thank you all the same. As Arnie said "I'll be back" – Hirst Junior Moseley Family – Bromsgrove UK Having not rented a villa before we weren't sure what to expect, however, you villa way exceeded our expectations. We had need to call the management service who dealt with a small problem quicker than if we had been in a Hotel. Well done to them. Your courtesy calls and allowing us a late checkout was great and allowed us to wash and dry all bed linen and towels as well as enjoy our last day here. Thanks for all the useful info you gave us. We will definitely recommend this to other people who are looking for a villa holiday. Having encountered Hurricane Charlie in Florida 2 yrs ago the weather this holiday has been great making everything even more enjoyable. Thanks Sheelagh & John ABRAHAMS WHAT A WHAT A WONDERFUL VILLA EVERYTHING YOU COULD POSSIBLY NEED & POOL TEMPERATURE WAS HEAVENLY! WHAT A SHAME WE HAD TO RETURN TO THE CHILLY UK WE'VE HAD DAYTIME TEMPERATURES OF 80F HERE IN SUNNY FLORIDA. THANK YOU FOR THE USE OF YOUR FABULOUS VILLA HAT A THE HUTCHINSON & WILKIE FAMILIES CANADA VERY NICE HOME, GREAT TIME THANKS NICE VILLA WOULD CERTAINLY LOOK AT RENTING AGAIN THANKS PETERSON FAMILY – ONT. CANADA WONDERFUL HOME AWESOME POOL THE CARDS WERE GREAT WE ALWAYS FORGET THEM A TELEVISION IN EVERY ROOM WAS GREAT IT WAS HARD TO LEAVE HOME WHEN THERE WAS SO MUCH TO DO HERE PLAY POOL, DARTS OR JUST GO SWIMMING BUT WE MANAGED TO GO TO THE PARKS TOO HOPE TO BE BACK AGAIN THANKS THE HASTON & FRYETT FAMILY - MARSKE UK EVERYTHING THAT WAS NEEDED TO MAKE FOR AN ENJOYABLE HOLIDAY WAS PROVIDED WITH 1 EXCEPTION (MONEY) AS IF? GAMES ROOM FOR ANY RAINY DAYS SWIMMING POOL FOR THE SUNNY ONES HOME FROM HOME BLISS DEFINITELY RECOMMENDED THANKS Posted with eBay Mobile
Visit Our Partner Website
This listing was posted on another website. Click here to open:
Go to eBay
Important Safety Tips
These might be signs of fraud:
Really cheap prices
Irregular email adresses
Contact info in pictures
To learn more, visit the Safety Center or click here to report this listing.